Getting a solid 8 hours of sleep is tough! After a few hours of staring at the ceiling, watching reruns on Netflix and counting sheep I will do anything to fall asleep – but how do powerful sleeping pills work?
Look:
Most people have trouble falling asleep at some point and start to look to OTC and prescription drugs.
Sleeping pills are a short cut to deep sleep, but they have short and long term side effects.
You may be wondering:
How do sleeping pills work and what kind of effect do they have on my brain? Are there any side effects I need to watch out for? And what about addiction and dependence from long term use?
Before you take another sleeping aid here is what you should know!
Different sleeping medications work in different ways! Some target receptors in the brain while others work to slow the nervous system!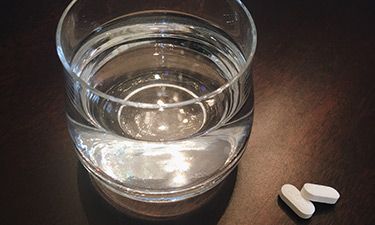 What about Diphenhydramine Based Sleeping Pills?
Diphenhydramine based Sleeping Pills are commonly available over the counter. You most likely know them as Benadryl, Advil PM and other OTC "PM" and allergy drugs.
These sleeping aides are sedative antihistamines! They work by blocking histamine production.
Most common Diphenhydramine sleeping pills
Advil PM
Tylenol PM
Excedrin PM
We recommend using Diphenhydramine based sleeping pills for occasional bouts of insomnia. If you notice a pattern developing it might be time to see a doctor!
Potential side effects of Diphenhydramine Sleeping Pills are:
Difficulty using the restroom
Morning confusion and groggyness
| Medication | How it Works | Side Effects |
| --- | --- | --- |
| Ambien | Attaches to specific GABA receptors | |
| Lunesta | Attaches to specific GABA receptors | |
| Sonata | Attaches to specific GABA receptors | |
| Ativan | Attaches to general GABA receptors | |
| Advil PM | Blocks histamine | |
| Trazodone | Attaches to multiple receptors | |
| Benadryl | Blocks histamine | |
| Melatonin | Regulates body clock | |
Benzodiazepine-based Sleeping pills
Benzodiazepine-based Sleeping pills like Xanax, Valium and Klonopin are used to treat severe sleeping disorders. In fact, most sleep prescriptions are written for benzodiazepines based drugs.
Benzodiazepine sleeping pills, also known as Benzos, work by increasing levels of gamma-aminobutyric acid in the brain. GABA is a neurotransmitter that is responsible for feelings of calm and relaxation.
GABA based sleep aides target specific receptors in the brain that promote deep sleep.
The most common Benzodiazepine sleeping pills are:
If your doctor writes you a prescription for a Benzodiazepine sleeping pill be careful! These drugs are highly addictive and have powerful side effects! Most Benzodiazepine prescriptions are for a limited supply so you don't become addicted!
Potential side effects of Benzodiazepine Sleeping Pills are:
Memory problems
Hallucinations and sleep walking
Personality changes
Episodes of confusion
How fast do Sleeping Pills Work?
Most sleeping pills work fast and should only be taken right before bed. Before you take a pill make sure you can commit the next 8 to 9 hours to sleeping!
The exact amount of time to kick in depends on the medication, your diet, metabolism, weigh and many other factors. Most people should start feeling the effects in 30 minutes or less so don't take them at work!
Prescription medications like Benzodiazepine tend to work the fastest but Diphenhydramine based medications are not far behind!
Want quicker results? Try sleeping with a sleep mask, earplugs or new bed sheets!
What sleeping pill works best?
When you are desperate for sleep you only want the best. Unfortunately the most effective sleeping pill is different for each person. It might take some trial and error with your doctor to find the right sleep medication!
Is it bad to take Sleeping Pills?
There seems to be a negative stigma attached to taking sleeping pills. It is not bad to take sleeping pills as long as you follow your doctor's advice. Remember, these medications have powerful side effects and are addictive!
Is Melatonin a sleeping pill?
Melatonin is one of the most common over the counter sleeping pills! It is very effective, has few side effects and little risk of addiction. You may also see Melatonin in gummy or liquid form at your local grocery store!