Who does not love to crawl into soft sheets at night?
We love Egyptian Cotton, I can't seem to get a good night of sleep on low thread count sheets!
Any time I have to sleep at a hotel or on the couch I wake up feeling sweaty, with rough skin! My personal favorite sheets are the Valentino 1200 Thread Count Egyptian Cotton Sheets from Luxor Linens.
Luxor Linens is famous for their monogrammed ultra soft linens and bedding. In fact, they make many sheet varieties that have been on Today, Good Morning America, Dr. Phil, Elle, Access Hollywood and InStyle!
Lets check out some of the best sheets from Luxor Linens!
Twin XL
Full
Queen
King
California King
Olympic Queen
Split-King

Black
Blue
Chocolate
Gold
Ivory
Navy
Sage
Taupe
White
Wine

Twin
Full
Queen
King
California King


Beige
Charcoal
Chocolate
Gold
Ivory
Navy
Plum
Pearl White
Sage
Sky
Taupe
Wine

Twin
Twin XL
Full
Queen
King
California King
Olympic Queen
Split-King

Beige
Chocolate
Gold
Ivory
Lavender
Sage
Taupe
White
Wine
Valentino 1200 Review
Our family loves the Valentino 1200 Thread Count Egyptian Cotton sheets. If they are dirty and not on the bed I am sure to get an earful before bed!
The 1200 thread count means they are as soft as silk, without crossing the line. After my nightly shower I can slide right into bed. The Egyptian Cotton sheets are always cool to the touch and the heavy material provides a nice layer of extra padding above the mattress.
Available Sizes
Twin XL, Full, Queen, California King, Olympic Queen
Available Colors
Pros
Made from 1200 thread count, 100% Mercerized Egyptian Cotton
Custom monogramming and gift wrapping available
Rest easy with a 30 day guarantee
Machine washable
Dryer safe
Custom sizes and tailoring available on request including for boats, yachts and jet skis!
Cons
1200 thread count might not be enough for sensitive sleepers
Can get wrinkly if left in the dryer (make sure to use a dryer sheet)
Paola Italian Linen Sheets Review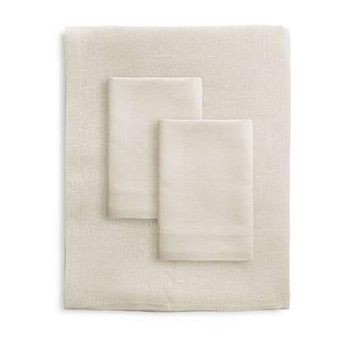 For some people 1200 thread count sheets just are not enough.
Sound like you?
Then throw away those old rags you call sheets and order Paola Italian Linen Sheets from Luxor Linens.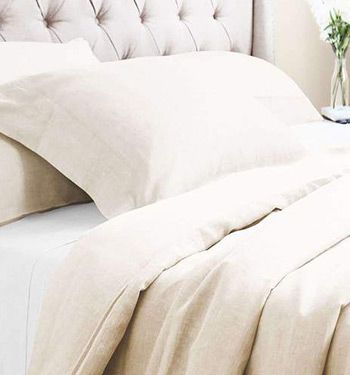 These sheets are handmade out of 100% linen. When sleeping you feel like you are sleeping on a padding of soft towels! Scientists at the University of Milan have found you get better, deeper sleep when laying on linen!
Have allergies? No problem!
The Paola Italian Linen Sheets are hypoallergenic so need to worry about pollen, dander or dust if you or a loved one has a sensitive nose!
The thing I love best about linen sheets is that they naturally wick away moisture, keeping you cool in the summer and warm in the winter!
Pros:
Handmade in Italy
Hypoallergenic
Moisture Wicking
Proven to help sleep better
Personalization with Signature Monogramming
Available in all sizes
Cons:
Don't take out of the dryer to early!
Caterina 600 Egyptian Cotton Sheets Review
Your kids deserve nice sheets, but lets face it. They will need replacing in a few months. Our pick for best Egyptian Cotton Sheets for kids are the Caterina 600 from Luxor Linens.
These sheets are machine washable and dryer safe so you can just throw them in with all the other laundry when they get dirty!
At 600 thread count they may feel a bit rough, but your kids won't even notice after a long day of adventure.
Pros:
Made in Italy from 100% organic Egyptian Cotton
Safe to use in your washer and dryer
30 night free trial
Fits most common mattresses sizes
Elastic band for a tight fit that won't come up at night
Matching duvet and pillow cases available
Cons:
May be rough on light sleepers
We put together a list of 100+ tips to help you fall asleep faster and wake up feeling refreshed!