Clean and Sanitize your CPAP machine every day!
Cleaning you CPAP, BiPAP and other sleep masks on a regular basis is important for staying healthy as well as extending the life of your machine. Without regular cleaning you risk health problems like upper respiratory infections and sinus problems which is why our team at Sleep Insider recommends using the SoClean 2 for sanitation and decontamination.
We checked out the machines specification as well as the pros and cons so you can decide if it is the right cleaning option for you. We also did some additional research on the pricing, warranty and delivery options so you can start using it right away!
| Specification | Information |
| --- | --- |
| Dimensions | 7.5 x 6.8 x 8.8 inches |
| Effectiveness | Kill 99.9% of germs and bacteria |
| Cleans and Sanitizes? | |
| Types of Machines | CPAP, Bi-PAP, VPAP, or BPAP machines |
| Power Source | 2 AA Batteries |
| Pricing | Click here to see pricing |
The SoClean CPAP cleaner sanitizes your mouthpiece and sleep mask using actived oxygen. This powerful gas cleaner uses activated oxygen to sanitize the interior mask and tubing. This gas kills germs, bacteria, mold and other viruses that can thrive on the dark, damp conditions inside a CPAP machine.
Connect any kind of sleep mouthpiece for nightly sanitization and cleaning
Worried about your lung and respiratory track health – the SoClean kills 99.9% of all germs and bacteria
Tired of hot water and soap – let SoClean ozone clean and purify without the need to clean by hand
SoClean has adapters for all the major CPAP brands include DreamStation and System One
SoClean 2 Trial & Warranty
Refunds and returns via Amazon
SoClean 2 Shipping & Price
Shipping costs may be included with your order depending on your Amazon account
Orders are shipped within a few days – if you have Prime they may be shipped faster
The SoClean 2 is fairly priced – especially when you consider the time you will save
Never heard of sanitation with activated oxygen?  It is one of the most effective – and hassle free ways of cleaning plastic medical devices. The unit pushes the gas through all parts of your machine – kill and germs and bacteria as it goes. The gas does not damage the mask or tubing and their is no harmful chemicals or difficult to use disinfectants. All you have to do is attach your mask in the morning and hit start!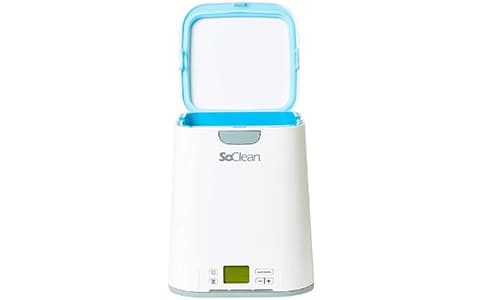 Our favorite part about the SoClean 2 is the accessories but for the most popular CPAP machine models. Instead of forcing you mask into a "one size fits all" cleaner the SoClean has custom made attachments for all the most popular brands. Plus, this helps make sure that the inner tubes are getting 100% sanitized!
Ready to try the SoClean 2?
Ready to stop cleaning your mask by hand and ensure every last germ is killed? Then it is time to get started sanitizing with the SoClean 2.