Keep cool with advanced an Avana foam pillow
Don't settle for the same old pillow you have had for years. It may have that "homey" feel (and smell) but in reality you are sleeping on years of dead skin cells and drool all while missing out on more comfortable pillows like the Leesa pillow! Searching around to see if it is the right choice for under your head tonight – check out what the team at Sleep Insider thinks about this and other popular pillows – read about the Specifications, Pros & Cons, Sizes, Pricing, Trial and Delivery!
Specs
Info
Material
Avena® performance foam covered with a polyester lycra blend
Weight
About 5 pounds
Coolness

Designed for increase airflow
Trial Period
100 night trial
Shipping
About 10 to 12 days
How to Wash
Cover - Machine wash
Foam - Spot clean
Our Rating
Price
Click to See Price
Start Shopping and Save Today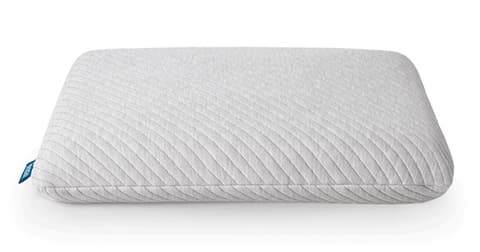 Need a supportive pillow that will keep your head cool all night – then the Leesa Pillow is right for you! With improved air flow plus and no fluffing required you and rest your head softly all night long.
Like sleeping on a quilted pillow – then you need the Leesa Hybrid! The Hybrid is similar to the original pillow but has a few key differences for even more coolness. Ventilated gel layers are designed for extra air flow and the Microfiber makes falling asleep easy!
Both pillow models are built with maximum air flow in mind. Polyester MicroFiber plus gel = superior airflow!
Tired of feeling the zipper or even worse – cutting your fingers? Don't worry Leesa has a hidden zipper!
100 night trial plus 3 year warranty you know you are getting a pillow that will last – plus the cover is washable!
With two models – and two different sizes to choose from you are sure to find a style and size that fits you!
| Size | Dimensions |
| --- | --- |
| Leesa - Standard | 18W" x 26L" x 5H" |
| Leesa - King | 18W" x 32L" x 5H" |
| Hybrid - Standard | 16W" x 24L" |
| Hybrid - Queen | 16W" x 28L" |
| Mattress | Price |
| --- | --- |
| Leesa - Standard | $75 |
| Leesa - King | $95 |
| Hybrid - Standard | $125 |
| Hybrid - Queen | $135 |
3 year warranty covering defects – not wear and tear or damage
Leesa offers a 100 night trial period
Leesa accepts returns during the 100 night trial period and a full refund
Leesa Shipping & Delivery
Leesa pillows have no additional shipping or handling costs
Pillows are shipping a few days after order via UPS
Where does Leesa ship to?
Leesa ships anywhere in North America
Ready to order a pillow from new pillow Leesa? Click here to place your order and your pillow it will arrive in a few days! 
Find Your Next
Leesa Pillow